Railroad and Train Videos, DVDs, Apparel,
Collectibles, Artwork,
Books, Posters and More!!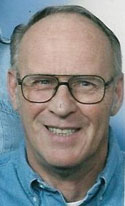 Bill Gardoski is 58 years old,and lives with his wife of 28 years in Meridian Idaho,just out of Boise. Art has been an important part of his life since he could hold a pencil and brush,but untill an accident in 1992,that resulted in amputation of a leg that disabled him,the world of art was sidlined for the reality of earning a living. He now paints fulltime.
Bill worked as an auto body repairman for over 20 years,a policeman for a few years,6 years in the US Army, and over 6 years as a longhaul trucker,which is what he was doing in 1992.
Self taught in his art,he uses oil on canvas only,and is very demanding about his detail. Working 10 to 12 hours a day,usually from around midnight to mid day, all work involves mechanical subjects of some kind. Usually working on 10-12 paintings at a time,as the detail in his work needs a dry painting. The work is almost all illustration in oils.
He is a past juried member of The American Society of Aviation Artists, and for a time focused on Aviation. Now almost all work is Rail related,but once in awhile autos,marine and aviation art are seen lurking in his studio.
All work, being very reasonably priced, is sold within a month of being finished,and a large percent are comissions. His work is in about 30 states at this time,and after 12 years the first print of any of his work is available in the Union Pacific Big Boy. More will follow (so keep checking this website!). He does comission work and special requests,and can deliver an original painting in about 45-60 days.
Many best of show,and first place awards,a special purchase award at the Western Idaho Fair in 2000, when they purchased a 24 x 48 inch painting of the Boise Depot with a UP E-9,and many showings localy.
He can be contacted at wski45@msn.com
Click Here to see all Artist's work
Click Here to go back to the art section.